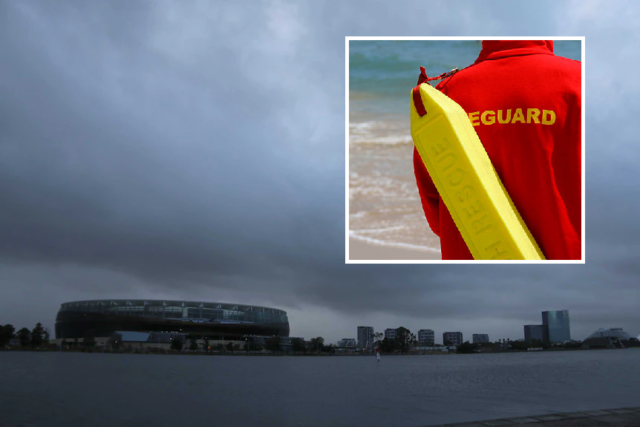 Perth Stadium has been forced to seek out the services of experienced lifeguards after the very real possibility that today's Derby will be played underwater.
Heavy, consistent rain today is expected to run amuck with the stadium's award-winning drainage. Simply put, you could be seeing players duck-dive into tackles.
A spokesperson for Perth Stadium told The Times,
"We can't guarantee that players won't be fully submerged at points in the game so as part of our public liability insurance we have to get some lifeguards in"
We asked why they didn't just upgrade the drainage to the quality of the MCG. They responded bitterly,
"Why does everyone always bring up the MCG's drainage? Here at Perth Stadium we like to maintain at least one side of pure mush. A side that may or may not require a bit of butterfly to get through"
Any lifeguard offering their services will be paid handsomely as well as 10% off any sausage roll or pie at half time. An offer Perth Stadium says is beyond the realms of refusal.
Public liability aside, the work Flagmantle has done at Kalamunda Water Park this week should mean they are well equipped to wade through the shoulder deep water.
More to come. 
RELATED: Flagmantle book training sessions at Kalamunda Water Park for wet weather conditioning
Documenting the Human Zoo is thirsty work, so if you enjoyed what you read how about buying Belle a beer, ay?