One doesn't use the term "full Collingwood" lightly and this Wobblers fan has certainly earned his spot in the Magpies supporter's hall of fame for this Flagpies tattoo effort.
After an admittedly big day on the cans, the son thought he'd fire up his home tattoo kit and immortalise the day on his dad's arm. If only it could've been that simple. Check out the video below.
Naturally, tattoos and big days don't often go well together and the son got one crucial detail wrong – the date, putting 2020 instead of 2023. Crikey!
Fear not, the quick thinking son was able to apply a seamless repair job that I think everyone can agree is barely noticable.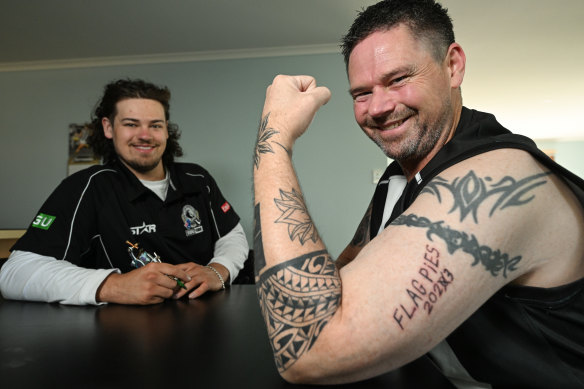 In even more peak Collingwood scenes, the budding tattoo artist was quoted as saying "luckily, my dad's a good sport and he didn't punch my lights out", according to The Age.
Let's have a look at how some other Wobbler's fans celebrated the day. First up, was the Collingwood based dealer who had such a busy night on Saturday that he thought he'd played a Grand Final of his own. Read his full story HERE.
Second up is a Collingwood supporting defence lawyer who has been able to put an extra storey on his house from the business he gained waiting outside a police station on Grand Final night. This is why he loves his team. Check out his story HERE.
RELATED: Dejected Brisbane locals skip breakfast as they are unsure they could even beat an egg right now
Documenting the Human Zoo is thirsty work, so if you enjoyed what you read how about buying Belle a beer, ay?