For many, Como will be a suburb you have driven through but never had the bottle to stop and embrace. Dive in to a big ol slice of the inner south today.
1. VIP Freeway entry 
You simply must experience one of Perth's most epic free exit rorts – South Terrace. Sure it takes pressure off Canning Highway southbound but it also pretty much gets you to the Royal Perth golf club car park. Gotta love that. 
The aggressive ripple strips will give you a gentle reminder that you're indeed coming in hot to straight out residential area. So slow down and get a warm feeling from the fact not a single Como resident wants you there. Let alone using their freeway exit. More on the exit HERE.
If you're coming from the South, make sure you go Canning Highway so you can get your windscreen cleaned. Who knows, Benny might even be there.
2. Como Beach
One of Perth's best beaches for a day of fun in the sun. Como Beach is an excellent location to float about with all the other floaties (predominantly waterfowl shit and jellyfish) before making a sand castle out of sand that probably doesn't have a fish hook sticking out of it (or a syringe if you're really lucky).
Making use of Como Beach as a jetty is one of the few ways to appease the Como boomers who will gladly tell you it was the hottest swimming spot in town. It's also the longest jetty on the Swan so do keep at least 1 minute spare to get to the end of it. How fun. 
"How wonderful. I still haven't been able to get that itch from my skin and the stink of the Swan from my nostrils. Move over Cottesloe this is the hottest beach in town" – Testimonial from Simon
3. Shank a ball into the drink in full view of passing cars 
Collier Park Golf Course offers one of the best holes in Perth. Standing in full view of the traffic passing on Hayman Road you get a chance to sacrifice your ball to the mighty course water gods. An important offering.
Will people think you're a total hack? Of course, the extra pressure to perform sure isn't going to help you. Aim right if you're a coward, you should reach it with a 7 iron. After you've made your offering go back to your usual golf course meltdown. Maybe you'll break another Driver around a tree. You psycho. 
"This is why. This is why. This is why. This is why. This is why" – Testimonial from Tom (mid breakdown)
4. Preston St IGA Car Park
Time to delve deeper into the normal lives of the Como people. It's time to experience the unbridled joys of navigating the Preston St car park. It will be positively life-changing for you.
After mere seconds of entering, you'll be truly baffled at how such a small car park can cause such massive amounts of frustration. Fark knows mate but it has something to do with the large Mercedes sedans and the drivers who probably should've given up their licence 30 years ago. 
"Only took me 45 minutes to get in and out with a nice fresh pie. I wish I could've stayed longer!" – Testimonial from Sue
5. Visit the historic site of Perth's greatest pub sign 
It's nothing short of a tragedy that they replaced the retro Como sign with the Canva-express sign they have now. Something about that faded, green intergalactic aesthetic just enticed you into formerly one of Perth's best pub car parks too.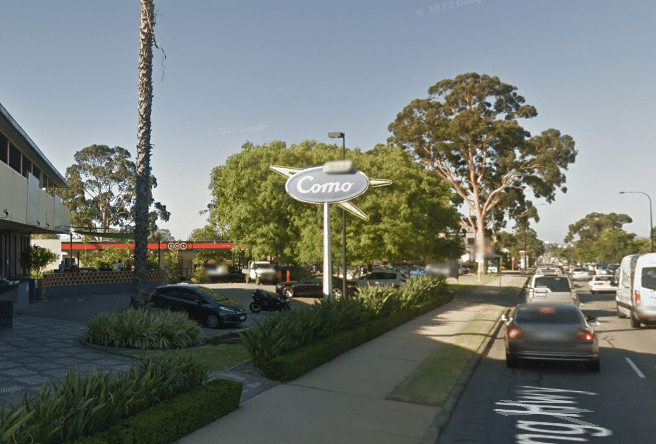 That of course is no more. Speaking of…
6. Dan Murphys Car Park 
If you had a good time in the Preston St IGA car park you're going to love Dans. Again, there is just something about the people of the inner South that makes them incapable of coexisting in a car park without total pandemonium.
Not only are the parks a bit on the toight side but there's even a one-way exit situation to really blow the domes off half-pissed tradies picking up a little something something for the ride home after the pub. 
"I don't give a shit if that road is one way I'm charging through. I don't even think I can turn my Hilux around to get out the proper way anyway" Testimonial from Damo
7. Day drink at Shark Rock 
For the full experience, you'll want to take the train to Canning Bridge Station. Then head to the nearest park to consume your day-drinking bounty. Neil McDougall Park is just s short walk from the traino and features the amazing shark rock.
Now if you think the rock is terrifying it's got nothing on the horror the locals will look at you with when they realise you're making a mess of their suburb. In many ways, you have become the shark in the aquarium of elite inner South living. Be proud of that. 
More hot days out in Perth: 8 Tips For A Spectacular Day Out In Forrestfield
Documenting the Human Zoo is thirsty work, so if you enjoyed what you read how about buying Belle a beer, ay?